Articles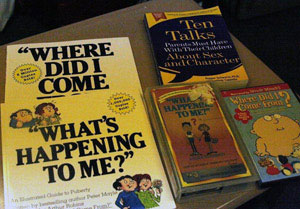 Through the years Without Regret has touched on a variety of subjects in connection with how it affects the information our teens about sex and sexuality and ultimately the potential influence it may have on their sexual decision making. Enclosed you will find articles that you, as parents and as students, may find helpful.
New! February 16, 2011 Radio Interview with Guy Rathbun at KCBX - Issues and Ideas - Childbirth instructor and educator Sue Simonson talks about her work with the Without Regret Foundation. (Again, note that this is a radio interview, not an article.)
Daddy's Little Girl - A 16 year old teen shares from her heart to Dads on "When a father is active and involved in his daughter's life in a positive way", how Dads can make a difference in teen pregnancy prevention, one of our nation's largest teen concerns?
Encouraging Myself in Parenting My Teen - Parenting teens can be frustrating and draining, hear from Kim Fredrickson, M.S.,Marriage and Family Therapist (CA MFC 22635) and Life, Parent, and Relationship Coach how to encourage yourself along the journey
The Forgotten Years - Can we afford to wait to give our children honest and accurate information regarding sexuality until they are 12 or 13? Take a look at "The Forgotten Years" to see how parents can use those years to effectively establish themselves as "askable" parents.
Innocence - What might you feel after your first sexual encounter? Listen to the words of a 13 year old girl as she shares her thoughts.
Mom, Dad, I have Something to Tell You... - These words are not always welcomed words as teen pregnancy becomes a part of our own family. What can we do to prepare our children to make sexual decisions that will better serve their lives and their futures? Read on…
My Space- Friend or Foe? - My Space- Friend or Foe? Parents, My Space, Facebook, are a reality of our children's lives, you can find a way to make it work and learn more about your own child and their friends at the same time. Be smart, be safe, and be aware…
Motherhood - Moms, we don't always get it right- you are not alone! We are not perfect parents and why can it hurt so much? "Love never Fails."
Questions - Anonymously written by a pregnant teen as she faces the fearful task ahead of becoming a mother at the age of 16.
What I Learned in Puberty 101 - Written by a parent after attending one of Sue Simonson's seminars, parents are encouraged to understand that "Parent Connectedness with their Kids = Teen Pregnancy Prevention."